by

Mackenzie Patel
**Spoilers ahead**
Hello all! The Game of Thrones season 6 finale aired, and as the world knows, a steamboat of deaths sailed to the bloody shore. I recently binge watched all six seasons so I could catch up for the anticipated finale, one rumored to give clues as to Jon Snow's origins. Besides the bombshell there, Cersei blew up Kings Landing, Tommen killed himself, Daenerys sailed to claim her throne, and Jon was proclaimed King of the North. However, Tommen leaping out the latticed window resonated with me more than any beheading, arrow shot, or poisonous demise. The deaths of Ned, Catelyn, and hundreds of others are still fresh in my mind, but none have affected me as much as Tommen's. Read on to discover why Tommen's death is the best one in Game of Thrones thus far and potentially the entire series.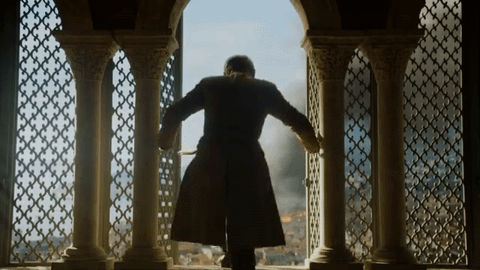 Tommen's death was quiet, unexpected, and shocking. After Cersei destroys the High Scepter with wildfire, the smoke permeating through Kings Landing reaches the sight of Tommen. His wife, Margaery Tyrell, was just another ash in the flame along with the other Tyrells and the Faith of the Seven. Interestingly and unlike his vicious brother, Tommen loved Margaery and was devastated that 1) she was obliterated and 2) his mother had killed her. Printing a ticket to The Great Beyond, Tommen put down his crown, paused for fifteen seconds, and then jumped without a lick of hesitation. It was eerie and almost too quiet. There was no bloodshed or agonizing pain, only the sumptuousness of regal curtains and the will of a weak person finally becoming resolute. Jumping out of that window was the bravest act Tommen ever committed on his own. But why does this make Tommen's death the best? First, the cinematography was perfect. There wasn't a second, one instant of film, that was spoiled or off-kilter in any way. The contrast between a frozen image of luxury—the sculpted marble running into the finely wrought metal seeping into an azure sky—and the horridness of death was striking. The window and framing wall were still and composed the entire shot, making his sudden death all the more disturbing. It's hard to put into words, but it was as if Tommen was intruding upon an old, attractive painting, splattering the oils and watercolors with blood. When compared to other deaths, Tommen's wins the award for most artistic. For example, the death of Ned Stark? Getting your head chopped off before a roaring crowd and a fainting daughter isn't exactly the best way to go. Or remember Prince Oberyn Martell? His brains were dashed onto the ground by The Mountain through his eyes, nothing quiet or solemn about it. It was rough, violent…. simple. And by simple, I mean his death was fueled by rage and beheld by commoners; there was no poetry as his eyes were mutilated.
Second, Tommen's death was unsettling and one of the more poignant deaths on the show (Hodor claims First Prize for most cry-worthy death). Especially since his ending was a suicide (only a few other characters have greeted this fate), ordinary grief was peppered with the aching sadness of dead youth. As Mashable suggests, Tommen taking off his golden crown was a suicide note and a hint at the reason behind his abrupt decision—he was done with this grand Game and could not live in a world in which he would never acclimate or survive. Tommen was weak, little, and controlled by domineering women, but his character resolution was one of the strongest in the entire show. Also, Tommen waits a confusing 15 seconds (and is out of the frame as well) before reappearing again and jumping. This gap, surprisingly long-winded but perfectly timed, was a luxury not afforded to other characters on the show. Jon was stabbed to death in a brief, chaotic scene; Rickon was shot and killed instantly; Tywin was pierced while taking a shit. But the silence (no music was playing) and abysmal blankness for those 15 seconds lent gravity to the death of a seemingly minor character—nobody else was given this repose, this window of contemplation; only clotted stab wounds and blue lips….
Speaking of minor characters, Tommen's death has repercussions almost as widespread as the murder of Jon Arryn in the first season. After Arryn's death, which was orchestrated by Little Finger, the season descends into hell and ends with Ned's flowing locks on a rusted spike. Likewise, Tommen was the only pin nailing Cersei to the corkboard to sanity. Her children are dead, her father is rotting below, and her brother/lover casts a mistrustful eye on her cropped hair. Cersei becoming The Mad Queen is clear in season seven; the sweet gaze of Tommen and her paradoxical love can no longer quell the insanity. Majority of the killed characters did not have this weight, this potential to affect thousands of other lives. Hodor? Catelyn? Walder Frey? They had more sway in life than in the realm of the dying. It's also interesting to note that no other person on Game of Thrones (at least to my memory) has committed suicide—in the world of Westeros, that act is decried, taboo, and animal in their eyes. Tommen snipping the cord with his own fingers makes his desperation clear. According to Cosmopolitan, it took 30 takes to film his scene—meaning a whopping 30 faceplants for Dean-Charles Chapman. But the extra takes, the sore nose on Chapman's part, the few wasted millions, was well worth it. It spoke of larger themes such as personal will, the effect the dead impose upon the living, and the consequences of seething madness.
To die in your own hands rather than cower under your mother's dress—without wife, personality, or freedom—was the flawless ending for Tommen's character. Any regrets he might've had flew out the window with his golden-threaded robes.